A look inside 'Rizzoli & Isles' with Angie Harmon by Anca Dumitru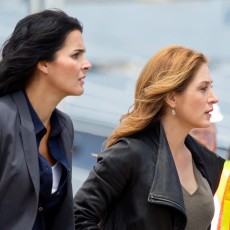 Angie Harmon, the actress who gives life to the gritty Boston homicide detective Jane Rizzoli in the TV hit drama series 'Rizzoli & Isles,' gives us the scoop in a press conference call before the highly anticipated Season 3 premieres on TNT.
In a shortage of female-led shows on television, Rizzoli & Isles is like a breath of fresh air. The show creator and Executive Producer, Janet Tamaro, was inspired by Tess Gerritsen's series of novels, which feature two completely opposite characters: the tough Detective Jane Rizzoli and the uber-feminine, always impeccably dressed medical examiner, Dr. Maura Isles (Sasha Alexander). Jane and Maura are two strong women who are very good at what they do. They share an unconventional friendship and a solid working relationship. Despite their strength, Jane and Maura also have moments when they are vulnerable, silly, sexy, or angry.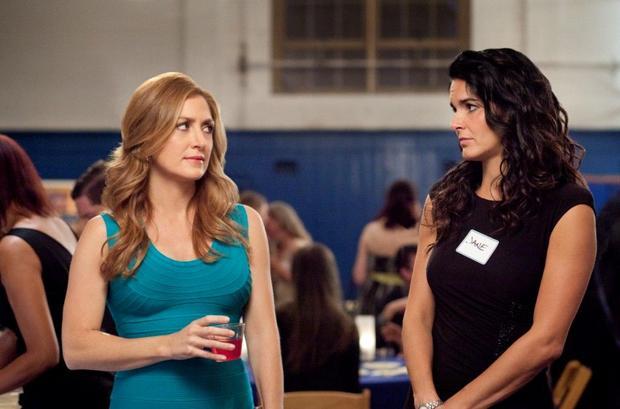 Harmon isn't at her first role as a homicide detective. She played one in ABC's Women's Murder Club, a show that was nominated for a People's Choice Award in the category of Best New Television Drama.
After a successful career as a runway model, she focused on studying acting and made her feature film debut in the indie Lawn Dogs, a film that screened at both Sundance and Toronto Film Festival. She marked her network television debut as Eric Roberts' co-star as a rookie member of the FBI's elite crime unit on ABC's C-16: FBI.
Rizzoli & Isles script landed on Harmon's lap just when she was considering walking away from the show business. A mother of three young girls, Harmon, who is married with former New York Giants football player Jason Sehorn, moved with her family from Los Angeles to Charlotte, NC. Yet she juggles career and family life while she works 90-hour weeks on Rizzoli & Isles set in LA.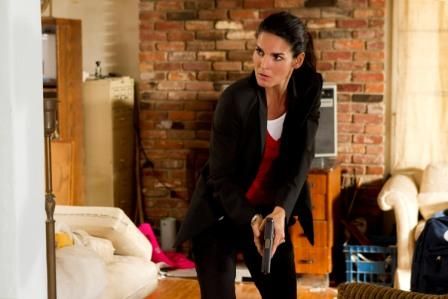 Despite a busy schedule, Harmon took some time to answer some of the media questions before the Season 3 premiere of Rizzoli & Isles, in a TNT press conference call on May 24. She discussed the series, her perfect chemistry with Sasha Alexander, her presence on Twitter and more.
Season 2 finale ended on a cliffhanger. Jane shot Paddy Doyle, Maura's estranged father and a mobster, an act that will have a tough impact on their friendship.
Harmon said it's really great to watch these two women work around their differences and the horrible situation that's happened, and come back together in Season 3. Also, the other characters recognize the love these two characters have for each other and will help Jane and Maura in their own ways to get back together.
Another aspect of the show that was discussed was Charles Hoyt's arc and whether it was explored in the right time frame. Hoyt, fantastically played by Michael Massee, was Jane's bogeyman and her worst nightmare. Jane stabbed him to death in Episode 2.10 ("Remember Me") in an extremely dramatic and intense scene.
Harmon was completely comfortable with where Janet Tamaro took that character and how much time they spent on it. The scene where Jane kills Hoyt was an extremely emotional closing for her and she learned a lot from it as an actor. "When you're living that character, you just keep going until somebody says 'cut'," added Harmon. She almost passed out in the parking lot after shooting that scene and once she got to her trailer she threw up. "And I had to collect myself, and then I was right back into shooting some more scenes," recalled Harmon. As intense as this experience was, she is grateful for it and concluded: "I was very thankful for that experience because it sort of ups the ante on acting."
By comparison to Law & Order, another successful show with great writing that's run for 20 seasons and Harmon starred in, she was asked whether she thinks Rizzoli & Isles would have a similar long run.
Besides the feedback she gets from girls who would like to pursue careers as homicide detectives or criminologists, Harmon believes the show is on "the right side of the line." Apart from the fact it would be great for the show to have a long run, not just for the selfish reasons, Rizzoli & Isles puts something positive out there. "When they did those surveys in kindergarten and all the girls said 'I just want to be famous', but none of them said how, that to me is alarming," said Harmon. Young girls need role models. And this is what Rizzoli & Isles shows them.
On working with Sasha Alexander and the chemistry between them, Harmon reveals that a few actors auditioned for the part of Maura Isles, but Alexander "kind of hit it out on the part." Not only did she get the fact that Dr. Isles was this quirky and socially awkward scientist, but she also got the fact that Maura had friends.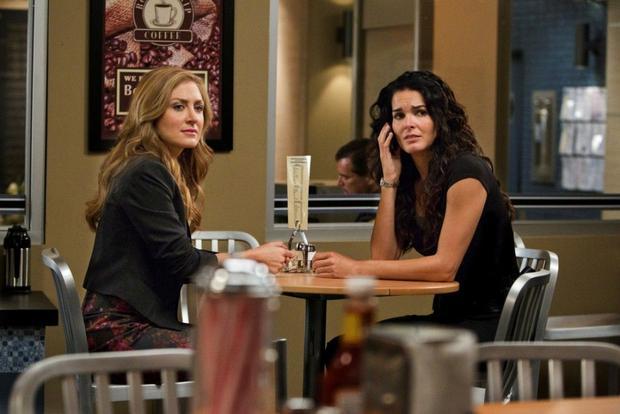 Plus working together with Alexander for the past three seasons strengthened their friendship. "There was an instantaneous recognition and a friendship that's grown and matured over the years," pointed out Harmon.
The part of Jane Rizzoli earned Harmon a 2012 Gracie Award for Outstanding Female Actor in a Leading Role in a Drama Series. She was honoured in a gala held on May 22 at the Beverly Hilton Hotel in Los Angeles alongside a series of other remarkable women. "The Gracies" are the signature event of the Alliance for Women in Media (AWM) Foundation, and celebrate women in all form of media.
Harmon is thrilled with the recognition she received from AWM. Despite hurting her back a few days before the event, she was determined to "crawl on that stage" and accept this award: "Are you kidding? Celebrating my acting? Oh, no. I'm gonna be there." She had to wear a corset, lay down in the car on the way there and back, accepted the award and left. She didn't get the chance to mingle with the stars she admires, but she's grateful and excited about it.
Finally the subject of social media was brought up since Harmon is an active Twitter user. She was asked why she decided to have a Twitter presence while other actors shy away from it.
Harmon admitted she was one of those actors who hugely opposed to using Twitter at first. "I thought it was gross and disgusting and arrogant and egotistical." TNT asked her to be the social media host for the 2011 SAG Awards. This was so opposed though to who she is. "I am intensely private," added the actress. "You don't have information unless I give it to you and this is how I run my life. I'm not that Leo that wants everything out there and 'Ooh, look at me!'"
Once she got on, she got over the haters, which everyone has in their life anyway. And she was touched by the young girls who connected with her, and it kind of stuck. Some of them are going through some horrible family situations, some of them have insecurities. "They help me and make me feel good as much as they say I do for them." She doesn't tweet everything she does, but she does appreciate her fans, the "Twangels." "Those fans are the reason that I'm here," concluded Harmon.